At Senestraro Family Orthodontics, we understand the importance of staying up-to-date on advanced technologies and techniques to provide our patients with the most optimal care. We have strived to assemble state-of-the-art facilities, equipment, instruments, materials, and software to help our team provide our patients with the very best in orthodontic care. Whether you need minor care or a long-term treatment plan, our cutting-edge technology allows for superior comfort, safety, convenience, and effectiveness. If you are looking for innovative orthodontics, you have come to the right place!
We have moved to being 100% digital! That means, digital images, digital uploads to labs, and even digital communication. We are happy to receive and reply by text to accommodate your busy lifestyle. We can even remind you of your appointments through text!

iTero Scanner
The iTero Intraoral 3D Scanner is a wand-like device that we use to produce high-quality digital impressions. About the size of a toothbrush, we simply scan the mouth instead of the traditional method of placing goopy molds in your mouth to make a more precise impression. A simple digital scan takes a few minutes and we have a digital impression that we can easily send to our lab for 3D printing and fabrication of your appliance or Invisalign.
An iTero impression is typically used to design and fabricate Invisalign aligner trays and appliances including Expanders which many of our younger patients have as part of early orthodontic treatment. Aligners are a modern take on traditional braces for patients who require smaller tooth movement treatment. Each tray in your series of aligners is custom fit to slowly move your teeth to a more proper position.
The iTero Intraoral 3D scanner and imaging tool is one of the newer technological advancements to revolutionize the field of orthodontics. We love this tool because it provides more precise treatment planning and appliances. With the advantages of 3D imaging and printing, we can now scan your oral cavity to create a digital impression of your teeth and gums. This is a great tool because it allows us to visually show our patients exactly what we are doing, creating a much more efficient line of communication. This is a huge advantage for our young patients.

3D Printing
In our commitment to provide custom, efficient, and effective orthodontic solutions, we utilize 3D printing technology. This revolutionary technology allows us to create detailed and highly accurate models of your mouth. These models serve as the blueprint for creating personalized orthodontic appliances, ensuring a perfect fit and optimal treatment outcome.
Moreover, we combine 3D printing with sophisticated 3D scanning technology, specifically, the iTero scanner. The iTero scanner captures thousands of images of your mouth and compiles them into a comprehensive 3D model. This model is then used as the basis for our 3D-printed appliances. This combination of 3D scanning and printing enables us to streamline the treatment process, reduce waste, and increase overall patient satisfaction.

Dental Imaging
Cone Beam Computed Tomography (CBCT)
The Planmeca ProMax 3D is a groundbreaking device for CBCT scanning. Cone Beam Computed Tomography, or CBCT, is a diagnostic x-ray technique that produces a three-dimensional image of the hard and soft tissues in your face. In orthodontics, we use ProMax 3D technology to gather information on your temporomandibular joint (TMJ), skeletal structure, impacted teeth that are not erupting, evaluation of extra teeth, missing teeth, unusual tooth anatomy, pathology, and various other complex orthodontic issues. This helps us get much more information than a normal digital X-ray so our team can make an accurate diagnosis and ideal treatment plan. The best part… unlike many orthodontic offices, we never refer you out or charge our patients extra for this advanced technology.

Carriere Motion Appliance
The Carriere Motion appliance is often used as a preliminary step in orthodontic treatment and in conjunction with Invisalign aligners to correct your bite efficiently. Using the simple Carriere appliance allows us to treat difficult cases with Invisalign that were once not possible. The appliance is an effective alternative for correcting posterior malocclusions commonly referred to as overbite and underbite. In many instances, it can shave months off your treatment time with braces.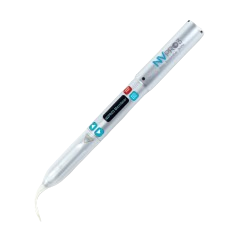 Soft-Tissue Laser
At Senestraro Orthodontics, we use soft-tissue lasers to perform various orthodontic procedures with increased precision and comfort. Soft-tissue lasers are particularly useful in reshaping the gums to enhance the aesthetics of your smile.
The use of laser technology minimizes discomfort, reduces the risk of infection, and accelerates healing times. Whether you have excessive gum tissue, an uneven gum line, or other soft tissue issues, our soft-tissue laser can provide a quick, painless, and effective solution. The result is a more balanced, harmonious smile that boosts your confidence and enhances your overall appearance.

TADs
Temporary Anchorage Devices, or TADs, are another example of the advanced technology we use at Senestraro Orthodontics. TADs are small, screw-like devices that we temporarily implant in the mouth to serve as anchors for moving specific teeth.
TADs provide a fixed point of leverage that allows us to move teeth in directions and ways that were not possible with traditional braces alone. Their application can make certain complex orthodontic cases more manageable and can often shorten treatment time.
By using TADs, we can achieve precise tooth movement while minimizing discomfort and disruption to surrounding teeth. This innovative approach to orthodontic treatment increases its effectiveness and efficiency, resulting in happier patients with beautifully aligned smiles.